Ufff… jak gorrrrąco! Dlatego na przekór pogodzie i wakacyjnemu nastrojowi zrobiłam taga w chłodnej palecie barw. Według wytycznych Rudlis miało być geometrycznie i z zamkiem.
"A więc wyjaśniam:
wasze prace tematycznie dowolne, kolor, wielkość, przeznaczenie same wybieracie.
Na Waszych pracach musi być: element geometryczny (np.papier w kwadraty, kółka itp.) Kilka figur geometrycznych na fotce.
Figury mają być dobrze widoczne (tło w hexagony) co najmniej 3 elementy tej samej figury (np. 3 owale jako tło).
Element zamka lub cały zamek to drugie wymaganie."
Aby sprostać tym wytycznym wykorzystałam papier w sześciokąty nieforemne i metalową kłódkę od różowego zamka błyskawicznego.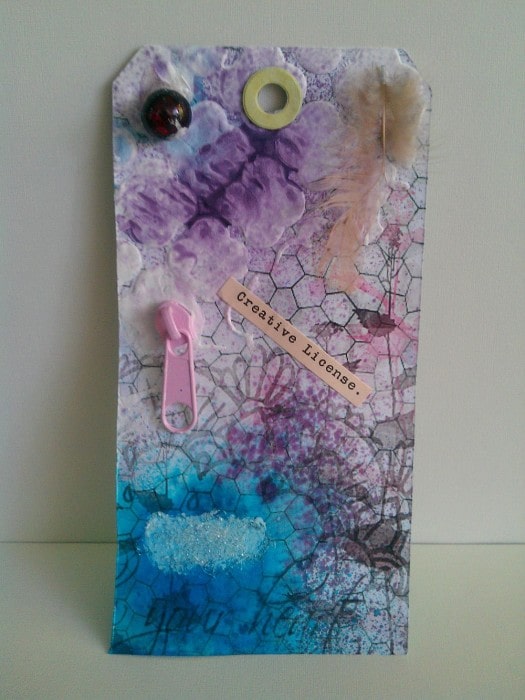 Przyznam szczerze, że to moja pierwsza eksperymentalna praca z mediami: białe gesso nakładane przez maskę, turkusowy i fioletowy tusz wodny, oraz mgiełka z połyskiem.  Mikrokulki i wspomniana mgiełka lepiej widoczne na zdjęciu z lampą błyskową.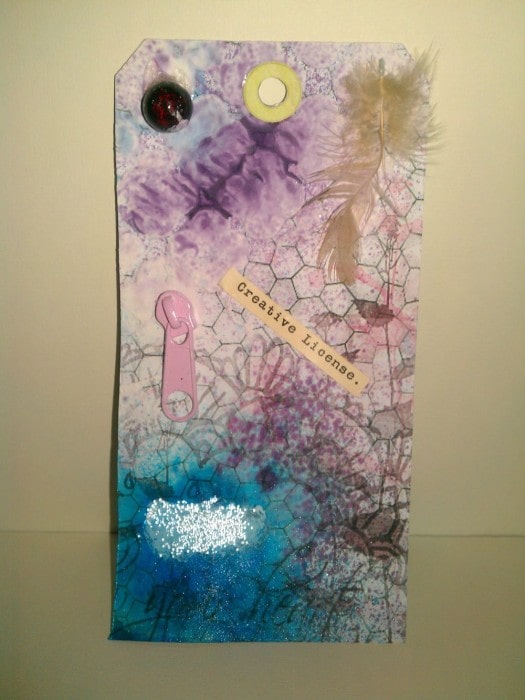 Ciekawa jestem prac Koleżanek z Tagowej Drużyny.  Zapraszam do oglądania TUTAJ!